Welcome to www.starters.co.nz 
starters.co.nz is a web-based subscription resource for schools featuring over 3000 quality pdf, ready-to-use lesson plans including digital resources such as videos and websites that enhance and add depth to the lessons.  

Full access to the lessons library (over 3000 lessons) of starters is by a yearly subscription. When your school subscribes, all teachers at your school have immediate access for 1 year.
Visit our subscriptions page and follow the simple steps.

Subscriptions for individual teachers are now available online at $25.00 (plus gst ) per year
Visit our subscriptions page and select this option when asked.
DOWNLOAD 2017 SUSTAINABILITY CALENDAR PDF WITH LIVE LINKS
starters&strategies Teacher's Magazine TERM 4, 2016 is now online in our Teachers Magazine section.
Check out content details on Bulletin Board. Visit the Teachers Magazine Section of the website to view the full magazine as a flip book.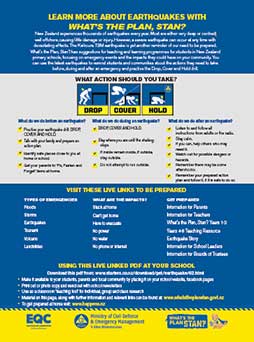 New Zealand experiences thousands of earthquakes every year. Most are either very deep or centred well offshore, causing little damage or injury. However, a severe earthquake can occur at any time with devastating effects. The Kaikoura 7.8M earthquake is yet another reminder of our need to be prepared.
Download this 'must have' free resource today. The pdf has live links to earthquake and other types of emergency sites. This includes lessons, stories, information and activities so your students, Board of Trustees and wider community can immediately find out what actions you should take before, during and after any type of emergency. 
Download this pdf from: www.starters.co.nz/download/get/earthquake/62.html
Make it available to your students, parents and local community by placing it on your school website, facebook pages
Print out or photo copy and send out with school newsletters
Use as a classroom 'teaching tool' for individual, group and class research
Material on this page, along with further information and relevant links can be found at: www.whatstheplanstan.govt.nz
To get prepared at home visit: www.happens.nz

This new Bright Ideas unit contains the following:
School in the 'Olden Days'. Language/English-based Activities
Fun with Balloons. Technology/English-based Activities
Topics for Mimes and Drama. Drama/Mime/Movement-based activities.
Download from Years 1-4 Bright Ideas Index in Lessons Library.
NEW ZEALAND HAS A SERIOUS PREDATOR PROBLEM (FREE DOWNLOAD – Click Here)
In this unit, students will research and identify the causes of the destruction of our native flora and fauna, discover the successful work carried out by Goodnature in conjunction with DOC, identify the actions we can take to stem this decline and become involved in practical ways to use the latest Goodnature technology to protect the biodiversity in their local area.
 A science, social sciences, technology and english unit. environmental sustainability across the curriculum. Supported with web and video links.
 GoodNature A12 Possum Trap